Announcing the First Fully Functional CCPU on an FPGA
Cinelabs is pleased to announce the first fully working CCPU implemented on a single chip FPGA. We have designed the new IRM in a custom IP Core. The design includes all of the original CCPU functionality, plus many enhancements.
Cinelabs has been repairing CCPU boards for people the world over, for more than 10 years and has observed mounting issues with keeping original CCPU boards in working order. Their components are now over 30 years old and are failing much more frequently than even just 10 years ago. Compounding this is the increasing rarity and rising cost of, certain components such as bipolar PROMS and obscure static RAM.
With Cinelabs' advancement, collectors will no longer have to worry about trying to keep their old boards running, as there will be a reliable replacement available, based on modern, obtainable components.
When incorporated into our new CCPU replacement board, the following features will be available:
► Drop-in Replacement for All Cinematronics and Vectorbeam CPU Boards
► Cycle for Cycle Accurate (Not an emulation)
► New Conventional Analog XY Monitor Interface (with daughter board)
► Expanded RAM for QB-3
► Integrated Color Board Support
► Single EPROM Operation
► "Naked CCPU" (all registers displayed on LEDs)
► Jumper Selectable Core Configuration (JMI, Instruction PROM Revision, etc.)
► Driver ICs in DIP Packages for Easy Repair
Additionally, there are many more features that will be incorporated into later revisions, such as Multi-Game support, High-Score Save, a Dynamically Re-Mappable Control Panel and Dual Z-80 Co-Processor configurations for games such as Rocket Racer and Demon. Also Game Networking, 10 MHz "Turbo" Operation, Early Frame Timeout Detection, Multi-Sound support, Monitor Input Protection, a full hardware Test Channel, and more.
The system (a.k.a. IRM) is presently running on a hand-made prototype (see picture), and a formal PCB is currently being made.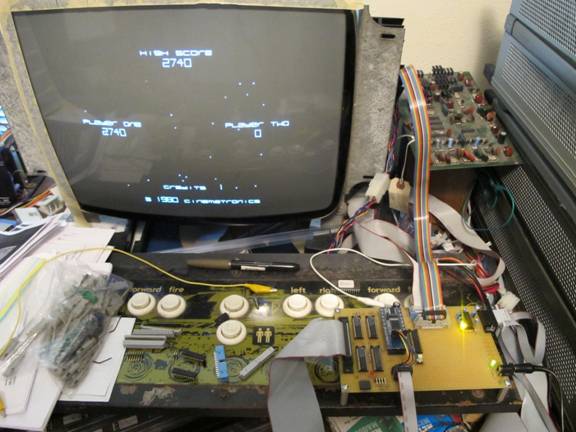 Check back here for the latest project updates and availability.
Cinelabs is dedicated to vector graphics style, coin-operated video arcade machines. We are primarily focused on the line of arcade machines based on a design by Larry Rosenthal, and later manufactured by Cinematronics, Inc. Although we have no affiliation with either Larry Rosenthal or Cinematronics, Cinelabs is committed to preserving their work, enhancing it as time permits, and assisting collectors in repairing and preserving their own collection of Cinematronics and Vectorbeam machines.
Thank You,
Mark Shostak