Announcing Cinelabs' HV-2000, Wells-Gardner K6100 & K6400 Flyback Transformer Replacement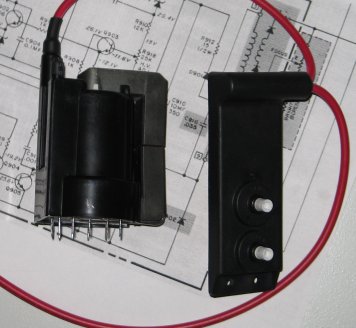 Cinelabs is pleased to announce the HV-2000, a new Flyback Transformer replacement kit for the Wells-Gardner 19K6100 and 19K6400 series Vector video monitors.
These monitors are used in many classic Atari coin-operated Vector video games, such as Space Duel, Tempest, Quantum, Black Widow and Gravitar, as well as Cinematronics' Boxing Bugs and Centuri's Aztarac.
This part is available and shipping as of June 18th, 2007. If you need one for your game, or you just want the piece of mind of having a spare in hand, please contact one of our distributors, such as Arcadeshop. If you're interested in becoming a distributor, feel free to email us.
The HV-2000 also includes some additional components to offer extra protection in the event of a critical failure of the HV unit, against the common Kentucky Fried Chassis syndrome.
This part is a "drop-in" replacement (or spare) for:
Wells-Gardner part number 53X0487-2

Atari part number 99-130516

muRata part number MSH1RAD17G
and is designed to install in the following WG High-Voltage boards:
P316 (85X0148) (6100 Standard)

P329 (85X0155) (6100 w/ HV Shutdown)

P324 (85X0148F Modified) (6400)
This part has been specifically designed from the ground up for the Wells-Gardner HV unit and includes a new Focus Assembly that replaces the original MHF002-32A or MHF002-35A.
Installation follows Wells-Gardner's original service literature, and is simply a matter of removing the original part and installing the replacement part, then following the adjustment procedures. Our guide to simple installation can be found here:
Pictured below is a working proto-type, installed in the test monitor.
The suggested retail price for a single unit is $79 USD, which will come with the additional protection components referenced above, while supplies last.
Thank you for your interest. If you have any questions, feel free to email us at: info @ cinelabs dot com.
Mark Shostak
Cinelabs